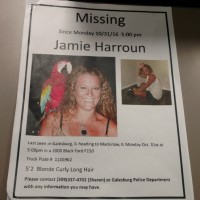 The case of a missing Abingdon woman remains unclear and the woman's mother continues to ask where her daughter went and if she's OK.
Jamie Harroun was last seen on Halloween around 5 p.m. Family believed she was heading to Mackinaw, Illinois in a 2000 Black Ford F150. Her phone went dead shortly after her disappearance. 
Further than that…little is known. Harroun's mother, Sharon Miller tells WGIL that so far the search has come up empty.
"There's no leads at this time,"Miller says. "Everything we've been given has fallen through and not been viable. We just don't have (sic) nowhere to start."
Galesburg police have confirmed they have no sufficient leads at this time. Even though information is scarce, it doesn't mean friends and family haven't been taking measures to try and find Harroun.
"We've been trying to put flyers up everywhere, we've offered a $10,000 reward," Miller says. "They're taking up a collection at the First Mid-Illinois bank in Galesburg. They're starting that so that we can make it bigger than $10,000. I don't care what it costs me. If somebody can give me information so I can get my daughter back, that's all that matters."
Miller says her daughter "lights up a room." She adds that she doesn't care what the reason is for where Jamie went, they just want her back.