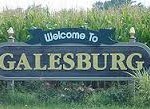 In Knox County, one in every 20 children under the age of 6 had levels of lead in their system exceeding the state standard for public health interventions in 2014, according to an Associated Press investigation.
That is six times higher than the state's average.
City officials confirmed today that Galesburg's lead levels in drinking water exceeded Environmental Protection Agency standards last year.
City Engineer Wayne Carl says though that Galesburg is still EPA compliant as long as they do additional testing and increase pipes' corrosion inhibitor rate to combat lead leaching into water — which they are doing. Additional testing is planned later this month.
Carl tells WGIL of 30 samples tested last year, four were above the state standard requiring action.
"And so, we're in full compliance," Carl says. "We don't have a violation with the EPA for our lead and copper."
Mayor John Pritchard says traces of lead aren't coming from the city's water supply directly.
"There is not lead level in the water that is delivered into the city system," Pritchard says, "but there can be lead absorbed into the water in water lines in older homes."
Carl says all water customers are notified when testing shows lead levels exceed the EPA's action level. Notifications to residents include information on how they can pay to have water service lines replaced.
AP reports the city has exceeded that level in 22 out of 30 testing periods since 1992.