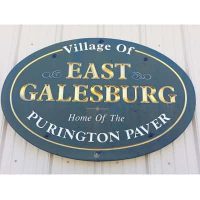 East Galesburg Mayor Teri Peterson says she has had enough.
After only six months since she took office, Peterson stepped down at Wednesday night's Village Board meeting .
Peterson tells WGIL maybe she was naive, but she thought she could eventually wade through all the name-calling, bickering, and political in-fighting that has dominated the town's government for a very long time.
"I really thought that I could overcome some of the conflict between past and present.  Unfortunately, it wasn't happening," says Peterson, a former WGIL employee.  "I could go on and on about some of the feelings that I've had over the past couple of weeks knowing that moving forward, I was just going to have to basically roll over."
Peterson tells WGIL she's not the only one to have left Wednesday.
"I had gotten [village clerk Terri Weidenhamer's] resignation letter [Wednesday] morning.  She had been with the village for quite some time," says Peterson.  "Then, later in the day, Jack Harlan — who was our police chief — sent his resignation letter out to [the] complete board.  And, the Police Department, remaining Police Department [officers Adam Crose and Barry Petzold] …had decided that without Jack, they also did not want to stay."
Peterson says all she really wanted to do was focus on community involvement and community pride, but that others on the board she declined to name made that next to impossible.  She says she's sorry for letting down all those who voted for her, but believes her family is first, followed by her job, and neither had been getting her best efforts lately.
Peterson's adversary — Darrell Corbin — ended up being mayor pro tem at Wednesday night's meeting when the walkout occurred. Felony charges filed several months ago accusing Corbin of illegally videotaping Peterson were dismissed by a judge.
Earlier in the year, the Village Board all but completely rejected the proper equipment so that Harlan's K-9 could be properly transported in Harlan's village squad car.
It's believed that someone will now have to be appointed mayor to fill out Peterson's term — or at least part of it until another election can be held.
HEAR MORE FROM TERI PETERSON THURSDAY AT 5:10PM DURING GALESBURG'S EVENING NEWS ON WGIL.