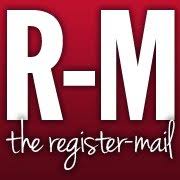 The Galesburg Register-Mail is going to go through some more changes.

The paper announced today that they will transition from printing every day to just six days a week, cutting their Monday editions.
They say that this, "was a difficult decision to make, but we're confident this change will allow us to continue to provide the coverage that matters to you most."
The paper says that the change was spurred by a bigger digital transformation, which has impacted newspapers across the country.
Despite not having a Monday edition, they'll continue to put out breaking news online and sharing their stories to Facebook.
The R-M says that the decision wasn't an easy one to make but one that'll allow them to provide "enterprising community journalism."
The newspaper has gone through several changes over the last year, including letting go of several long-term staff members in both the news and sports reporting.
Expect to see one less edition of the Register-Mail starting the week of October 13th.
They add that subscription rates and expiration dates will not be affected by the change.