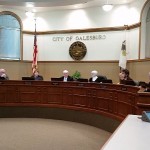 Galesburg City Council tonight alderman will have on first reading a revisiting of a rental licensing program and new minimum housing standards. 
These items came up for discussion and vote in March but they were ultimately tabled.
The program for rental units in town would have every unit inspected at minimum every five years either through self-inspection or city staff inspections.
Rental units that have uncorrected deficiencies would not be eligible for self inspections.
This trades in the current program in which landlords merely register their units where as this institutes licenses that can be revoked.
The consent agenda Council can accept $30,000 from the Illinois Housing Development Authority to be used for things like demolition, rehab, boarding up windows and waste removal for abandoned residential properties.
The funds can be applied to work that was done dating back to January 2016.
Alderman will also vote on relocating the LVT military vehicle that was stationed in the front of the American Legion building to Lincoln Park's Veteran Memorial.
The vehicle was leased by the Legion from a military museum because some of the service men who you rode in it lived in Galesburg.
Also Discovery Depot has gone over budget on their renovations and installation of new exhibits.
The project has gone about $330,000 beyond what was budgeted so they are asking the city for 22% of the increase, or $75,000.
Administration recommends that not be paid out until 2020.