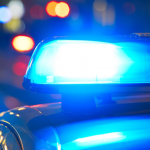 One person was arrested on several drug charges following a well being check Friday afternoon.
Officers responded to the 1200 block of West Main Street for a call that a woman was in her car unresponsive. She would later be identified as 42-year-old Connie J. Hedges.
Police reports indicate that Hedges' car was not running and the keys were not in the ignition, and reports also say that the her eyes were open, but she was not responding to officers.
Once they were able to make contact with her they identified a pill bottle with a torn-off label in her possession. Hedges told officers she did not have a prescription for the some of medication she had.
Officers identified two different pills in her possession including Alprozolom, in two different dosage sizes.
She was arrested on four charges of possession of a controlled substance and possession of drug paraphernalia.