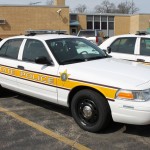 A Berwick man was life flighted to Peoria following a single vehicle accident east of Berwick on Saturday night.
44 year old Daniel Davis was westbound on Warren County Road 23 when his 2004 Pontiac sedan left the roadway and drove into a north side ditch.
The accident occurred around 155th Street at approximately 7:52 P.M.
According to a report from the Illinois State Police, Davis struck a culvert, went air-borne landed and turned over several times – striking a second culvert, power pole, and coming to rest in a ditch.
He was severely injured and life flighted to OSF Medical Center in Peoria where he was listed in critical condition.
Davis was cited for driving under the influence and failure to reduce speed to avoid an accident.