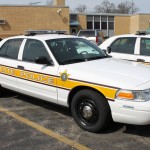 Two Oquawka residents are dead following a vehicle's attempt to avoid a piece of falling equipment on U.S. 34 in Galesburg last night.
A F750 truck ahead of a Toyota Highlander was carrying equipment which stuck on the underside of the Lincoln Park Drive Overpass and fell onto the roadway.
The driver was unable to avoid striking the equipment according to Illinois State Police and both the driver and passenger sustained fatal injuries.
ISP released the names of the deceased as 71 year-old Leonard Anderson and 66 year-old Carolyn Anderson of Oquawka.
The crash is under investigation at this time.