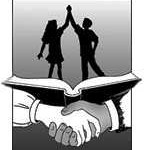 The District 205 Board of Education approved the tentative fiscal year 2020 budget at last night's meeting.
Assistant Superintendent of District Finance and Operations, Jennifer Hamm, presented the tentative budget to the board where she revealed that revenues would total up to almost $53,982,852‬ while expenditures would come in at around $96,484,909.
The huge difference in revenue and expenditures is due to the buildings renovation projects. When that chuck of money is removed from the table ($43,840,838) the expenditures fall far below revenues.
One big positive from the budget, Hamm says, is the meeting of school board goals for having 180 days cash on hand and operating with revenue to fund balance of 2:1.
The budget will now be publicly displayed for 30 days and approved again next month.
Board members held extensive discussions regarding K-2 testing, cell phone policy, a request to co-op for swimming, and the student loan payments benefit to teachers.