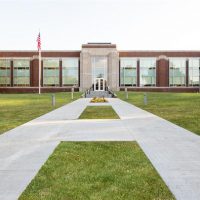 The century-old gymnasium that sits on Lombard Middle Schools' campus, long known as the Zephyr Dome, survived talks to tear it down in 2000, 2008 and 2011.But the relic left from the days of Lombard College may soon meet its end at last.
Galesburg schools superintendent John Asplund says that just to make the building useable for students would likely cost $3-$5 million.
He knows it would cost well over $1 million just to get the rights to make renovations, due to an agreement made with the state almost 20 years ago when 205 received capital funding to build a new gym.
"And that's just for the right to be able to fix it, so we're talking a minimum three to five million dollars just to get the thing up to where it's inhabitable, "Asplund says.
The 205 Board was at odds with then Regional Superintendent of Schools Bonnie Harris, in 2011 when she disputed the building was in disrepair and refused to sign off on its destruction
It is unclear if current Regional Superintendent Jodi Scott would have any opposition but Asplund said he would seek the necessary paperwork at a meeting at the ROE on Tuesday.
The next thing the board would have to approve is bids for the Zephyr Dome's demolition.