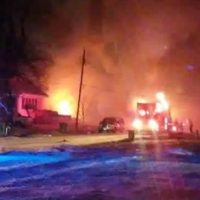 Galesburg firefighters responded to the scene of a structure fire early Wednesday morning.
Fire personnel responded to the 400-block of Clark Street at around 2:39 where the residence was found to be fully engulfed in flames. Responding were 11 firefighters and three trucks.
According to a press release from Battalion Chief Randy Hovind, Battalion Chief David Farrell requested extra manpower and ten more firefighters responded to the scene.
Firefighters not only battled the blaze but also had to battle the elements. Ice was a major issue for firefighters as water was freezing quickly. Additionally, three fire hydrants were found to be frozen.
While fire personnel was battling the blaze, the Knoxville Fire Department provided fire protection for the remainder of the city.
The cause has yet to be determined. Galesburg Fire Investigators, Galesburg Police, and the Office of the State Fire Marshal are investigating.
This is a developing story.