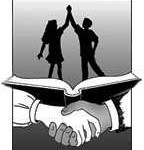 A handful of fees were increased by the District 205 Board of Education at their Monday night meeting. 
Board members approved a $0.10 increase to school lunches and breakfasts for students and a $0.20 increase for adults. The increases are required by the National School Lunch Program until the fees equal the program's meal reimbursement amount.
Additionally, the driver's education fee was increased to $250 at the recommendation of Principal Jeff Houston.
Houston said that the district is behind trying to serve the students who are taking driver's ed, and the district is losing the battle getting the kids behind the wheel.
"We got behind because of extreme weather this year, we get behind because of early outs, we've [got] students who are sick – teachers who are sick," Houston told the board. "So as [you, the board] knows, we've been chasing that dog's tail for a long time – to get back to square."
Houston adds that the fee will need to be paid in full before the student is enrolled. The new fees will take effect in the 2019-2020 school year. Registration opens April 15th.
The board also discussed the upcoming school calendar at great length.
Superintendent Dr. John Asplund presented the 2019-20 school calendar. One goal of the calendar committee was to give construction crews more time to do work.
Additionally, Asplund said that the district is trying to learn from past experiences and doubled the number of emergency days.
The severe winter weather experienced since the start of 2019 had caused two weeks worth of cancellations, five days will be made up while the other five could be declared "Act of God" days.