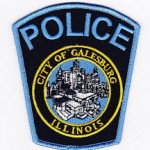 Galesburg Police officers responded to the second shots fired call this week Thursday morning.
According to reports, at just after 2, officers heard what they believed to be a gun shot coming from Berrien Street, and observed a vehicle depart from the scene and two subjects running east.
Foot patrols in the area yielded interviews which then lead officers to a grassy area in the 1000-block of Berrien Street where a 9mm shell casing was found. Reports indicate that a 9mm bullet was also found in the area.
This follows a shots fired call that went out Sunday morning on East Knox Street and Michigan Avenue. Officers are investigating both incidents.