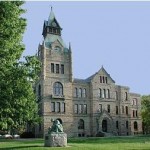 A Galesburg man had his bond set at $10,000 on Wednesday stemming from an arrest made in the early morning hours on Tuesday.
34-year-old John F. Clayborne Jr. was in custody with Public Defender Daniel O'Brien in Knox County Circuit Court today before Judge Raymond A. Cavanaugh.
He is charged with four felonies including three counts of unlawful use of a weapon with no FOID card, and a single count of reckless discharge of a firearm.
According to police reports officers received a shots fired call at around 1:10 a.m. Tuesday in the 1900-block of E. Knox St.
Neighbors say they heard Clayborne and a woman arguing before two shots were fired. Officers observed Clayborne with a gun and took him into custody.
Allegedly he fired the shots into the air, prompting the shots fired call.
He is due back in court July 2nd.