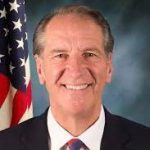 Senator Chuck Weaver is hoping to provide some assistance in identifying students with dyslexia. 
He's a sponsor of HB43-69 which passed the House unanimously in April and then passed the Senate unanimously on Wednesday.
It's now headed to Gov. Bruce Rauner's desk and if he signs it the Illinois State Board of Education would be required to publish a dyslexia guidance handbook.
The book would provided guidelines on how to identify various signs of dyslexia as well as strategies on how to help improve these students academic performance.
Weaver thought this is a "common-sense idea."
The Republican from Peoria says this is a part of an effort to "make sure that all students, regardless of their individual challenges, have the tools they need to build a successful education career and life.
Weaver has had a package of bills that he's sponsored that he says are all aimed at improving educational opportunities for students.