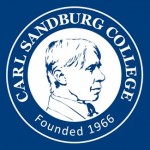 Carl Sandburg College has three finalists in their search for their next president.
Today the third finalist announced will be embarking on an intensive two-day job interview and tour in his bid to replace Lori Sundberg.
Last week Ellen Crowe and Seamus Reilly met with the board of trustees and student groups and toured the Galesburg and Carthage campuses.
Today it's Tim Wynes turn. He is the last finalist that will be interviewed.
Wynes is the name of the final candidate, who currently is president of Dakota County Technical College and Inver Hills Community College both in the Twin Cities region of Minnesota.
The pair of schools operate under one administration.
In fact, Wynes brings 16 consecutive years experience in being a community college president.
He holds degrees including a Ph.D in Educational Leadership and Policy Study from Iowa State and a law degree from St. Louis University.
Using that law degree he worked in the State of Missouri's public defender's office and the prosecuting attorney's office in a couple Missouri counties.
Wynes will be touring the city, the Sandburg campus and will meet with various school officials and students for most of today.
Wynes will spend tomorrow morning at Sandburg's Carthage campus.