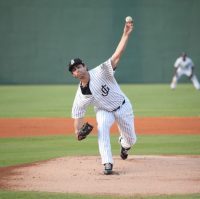 Kyle Hunter, a man who played baseball for Galesburg High School and American Legion Post 285, has hung up his mitt after seven seasons in professional baseball.
Hunter now 28, was drafted by the Seattle Mariners organization in 2011 where he played for the last seven years bouncing between AA and AAA levels last year.
Last season he was back and forth between the Double A-Arkansas and Triple A-Tacoma but still was not re-signed by the Mariners.
He waited during the off season for a possible call from another organization but on Sunday said he was "moving on" from his playing career.
This offseason he's been working as a pitching instructor to younger players at the national baseball school D-Bat.
Hunter wrote in an Instagram post Sunday Hunter announced that he was "officially done with the game of baseball."
"I have seen so many cool places that I probably never would have seen without baseball," he added.
He wrote that he hadn't heard anything from affiliated teams about signing him and he had ruled out playing independent baseball.
Sharing his thanks with fans, friends, family, coaches and the Mariners organization he says, "baseball will always be in my blood and I will always love the game. I am very excited for next chapter of my life."
Hunter expresses much gratitude in his post for the support of fans, friends, family and his newlywed wife Kristi.
Over seven seasons he put together a record of 27-17 and a 3.11 ERA.
Hunter is currently living in Kansas City with his wife, giving pitching lessons.