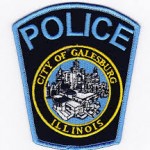 The second shots fired call in a week brings Galesburg Police officers back to Water Street.
Officers responded to the 100 block of W. Waters St. for the call at around 2:45 a.m. .
According to police reports, officers spoke with the complainant who advised them that he was woken up hearing loud gun shots coming from the rear yard of his residence.
He told officers that he looked outside and saw two subjects in dark clothing standing near the intersection of Water and West streets.
He said they took off running after he yelled to them, adding that they took off heading south down Academy Street.
The complainant also told officers he sent his dog after them, but called him back when he saw them point an item – he believed to be a gun – at the animal.