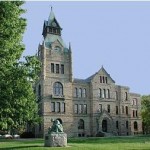 A Galesburg woman and teacher was given probation and community service as part of a plea deal in Knox County Circuit Court Tuesday.
47-year-old Michelle White plead guilty to a Class 3 Felony theft in Knox County Circuit Court and as part of the deal a Class 2 Felony was dropped.
White was arrested in November and accused of stealing money from the consignment shop Teens Out of Control on N. Henderson Street. She is also a teacher for District 205, and has been on paid administrative leave since her arrest..
She will be on probation for 24 months, ordered to serve 100 hours of community service and will obtain a mental health evaluation.
In addition a restitution check was submitted to the court for $11,900.