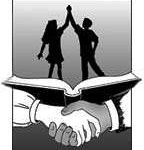 The District 205 Board of Education heard recommendations about increasing the substitute teacher pool at Monday night's meeting.
Human Resources Director Jonathan Bradburn presented the board a full list of feedback from teachers and selected four recommendations he felt would do the job.
One item recommended was a three tiered pay scale for subs where they would see an increase in pay for working more consecutive days in the district. Another being a higher pay rate for retired teachers who sub.
Additionally he recommended that the board promote and utilize a new law that sub registration fees can be reimbursed by the district for subs who document at least 10 days of teaching in the district.
When asked Bradburn did tell the board that feedback was gathered from substitute teachers and retired teachers.
Naming rights for the athletic complex was discussed.
About three years ago discussion began regarding naming rights of the athletic complex at Galesburg High School.
Also on first reading was a ten-year contract with F & M Bank to name the athletic complex.
As part of the agreement as currently written, the bank would also consider supplying several concession supplies – such as beverage cups, napkins, popcorn bags – with branding the venue's name.
Additionally, the district will begin distinguishing F & M as "The Official Bank of District 205"
One aspect of the contract was removed regarding branding of F & M Bank on the chrome books issued to students in the district.
The Board also approved both a service and a donation contract with Cottage Rehabilitation. The donation contract is in regards to the newly added scoreboard put in at the gym.
The board also approved a summer trip for the GHS Baseball team to travel to Omaha, Nebraska to take part in a 4-day tournament.