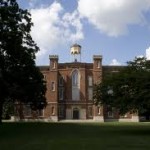 Students from Galesburg, Mercer County, Peoria and other schools are getting a lesson in lawmaking.
Sen. Chuck Weaver has now for three years hosted a Youth Advisory Council, which invites high school students from his district to meet in the winter and again in the spring.
Yesterday, 61 of what Weaver calls the "best and brightest" of his district met at Knox College. Besides hearing from Weaver and different business leaders, participants were put into groups where they had to come up with ideas for legislation.
Some of the ideas groups presented on were gun control, taxpayer funded abortion and term limits for General Assembly members. After some presentations, questions from fellow participants led to lively exchanges of opinions.
Weaver tells WGIL one thing has remained the same through every run of the Youth Advisory Council, "More than anything else I just continue to be impressed with how smart some of these kids area. And it's just such an amazing thing to see the best of the best get brought together in a room and to be challenging each other."
The same 61 students will go to Springfield in the springtime to hold a mock committee that will either pass or reject a piece of legislation they put together.
Weaver says he heard about 53rd District Sen. Jason Barickman running a similar program and wanted to copy it. He says now about half a dozen Republican Senate colleagues now host Youth Advisory Council like events.
Weaver also says he has high aspirations for the students that attend, "I start my comment with, 'you're sitting in a room with future mayors, state representatives, congressmen of our community' because these kids will end up being the leaders that we have."
He adds that the event grows year-by-year as students go back to their schools and talk about their enriching experience.