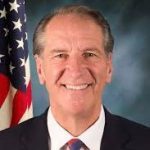 Nearly 250 leaders or would-be leaders converged on Peoria for a conference organized by Sen. Chuck Weaver.
The 37th District State Senator was encouraged that the conference attracted such interest, bringing about five times the participants he had expected.
The Developing Tomorrow's Leaders conference brought together leaders in their businesses and organizations to learn how to hone their skills and offer the chance for networking.
A panel of leaders which included Peoria public schools superintendent and the owner of a consulting business were among those participating.
VP at Caterpillar Tana Utley was the event's keynote speaker but the panel included Peoria Superintendent Dr. Sharon Desmoulin-Kherat and Dr. Marla Brady, owner of MBC Consulting.
Weaver says that as a leader, you can never be a victim, "If there was an eleventh commandment it would be 'thou shall not be a victim.' And what we have to do is step and say 'how am I going to improve myself, so that I can improve my family, so that I can improve my community.' The takeaway is that they listen tonight for areas where they can go home and become better leaders."
Weaver says he hopes to grow the event in years to come to include but also hopes that the potential leaders at the weekend conference will be a foundation.
He says he hopes that they will in turn help cultivate the next generation of leaders.
Another, Christine Bare-Kemper, Director of Business Development for Core Construction says that those showing initiative to show up to the conference are the kinds of employees companies want.
Bare-Kemper also says that the conference was a great opportunity for like-minded people to connect, "This is just a great opportunity to be around leaders and to see what we can do to help the youth and this whole entire community develop solid leaders."