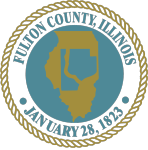 The Fulton County Sheriff's Office released the names of two individuals involved in a head-on collision Tuesday afternoon.
The crash occurred yesterday at approximately 2:39pm – prompting a road closure until 6:45pm last night.
A preliminary investigation revealed that 82-year-old Doris K. Setser of Macomb was pronounced dead at the scene by the Fulton County Coroner.
52-year-old Lori B. Harmon of Rushville was life-flighted to OSF St. Francis Hospital in Peoria.
A dog in Harmon's vehicle was injured and transported to a local veterinarian where it later died due to its injuries.
Setser was driving a 2003 Buick Rendezvous, Harmon- a 2000 Chevrolet Silverado 1500 – when the two crashed head-on yesterday on U.S. Route 24 west of Chaney Road in Fulton County.
The roadway was closed and traffic crash reconstruction was completed by the Illinois State Police.
Fulton County Sheriff's Deputies were assisted on the scene by Coppras Creek Rescue, Fulton County EMA, Timber Hollis Rescue, Illinois State Police, the Fulton County Coroner, Fulton County Animal Control, and Lifeflight.
The crash investigation will continue.