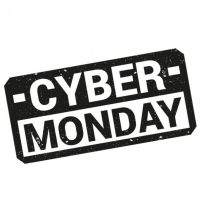 Today is Cyber Monday … and that means online retailers are competing to get your money by offering huge discounts on everything you need for your gift list. If you are a savvy shopper you can probably get close to finishing your shopping before December even rolls around.
 Get your credit cards ready … here are the tips experts say you need to ensure you get the best Cyber Monday deals:
Check price history of everything before buying: If you're an Amazon shopper you need to use CamelCamelCamel. The plug in will allow you to see the pricing history of the product you are buying to ensure that you are getting the lowest deal of the year. If it's not the lowest price, chances are it will go on sale later and you should hold off.
Shop discounted gift cards: It's basically free money. A $25 gift card that costs you $20 is a deal you shouldn't pass up.
Use deals websites: The best deals and coupons are all available online – use their resources. Every discount helps.
Follow your favorite retailers on social media for special deals and coupons: Join mailing lists and follow your favorite stores on social media to ensure you are notified when the best deals are happening. Just signing up for a mailing list can save you 10-15% on your next order, as well. (cnet)