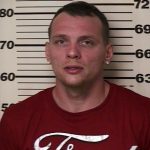 A Sherrard man was arrested early Friday morning after striking a Mercer County Sheriff's Deputy with his vehicle while attempting to flee.
29-year-old Jesse J. Walsh was wanted out of Mercer County for Aggravated Fleeing and Eluding and Aggravated Battery of a Police Officer. He was arrested in Moline just after midnight.
On Wednesday night at around 11:42, Mercer County Sheriff's Deputies attempted to perform a traffic stop on Walsh's vehicle – but he fled.
A short time later Rock Island County Sheriff's Deputies located Walsh's vehicle and again he fled. During this incident, a Mercer County Deputy was struck by Walsh's vehicle.
Walsh then crashed his vehicle east of Sherrard on the Mercer/Rock Island County line and fled on foot.
The Mercer County Sheriff's Department has not released the name of the deputy, but he was transported to University Hospitals in Iowa City for non-life threatening injuries.