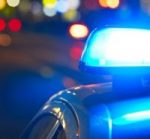 Galesburg police officers arrested two individuals after allegedly witnessing a drug deal on Knox County Housing Authority property on Monday.
According to reports, officers responding to an unrelated call to the 1500 block McKnight St. observed what was believed to be a drug deal taking place between occupants in a vehicle and a man.
Officers would eventually find a baggie containing methamphetamine and identify the man as 42-year-old Matthew W. Williamson.
He, and the occupants in the car, would be searched – allegedly finding $300 in counterfeit 20-dollar-bills.
Galesburg police also found legal tender containing serial numbers that matched several of the counterfeit bills.
Williamson would allegedly admit to officers he was there to sell meth to 23-year-old Kayla B. Debates – who after some investigation admitted to using one of the counterfeit bills to pay for a ride to do the deal.
Williamson would be charged with one count of Forgery, Possession of Meth, and Criminal Trespassing on State Land, while Debates was solely charged with a single count of Forgery.