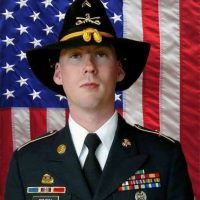 The U.S. Congress is acting to name a post office after a local solider who was killed in action last year.Rep. Cheri Bustos is sponsoring a bill to rename the Fairview Post Office after a native son, Sgt. Douglas Riney.
Riney was wounded by enemy fire in Kabul Afghanistan in October 2016 as a part of Support Squadron, 3rd Cavalry Regiment, 1 Cavalry Division.
Riney was 26 when he passed and left behind a wife, Kylie and two children.
Bustos spoke on the floor of the House Wednesday urging fellow lawmakers to support the renaming.
"While we can never fill the hole left in the family, the Fairview community or the nation, I hope this post office will serve as a proud commemoration of a man who dedicated his life to serving other and as an inspiration to those who hear his name," Bustos says.
The renaming easily passed in the House and next will be considered by the Senate.
Riney was decorated with military honors such as the Bronze Star, Army Commendation Medal and the Purple Heart.
In July the Illinois General Assembly named the stretch of Illinois Route 78 between Canton and Farmington in honor of Riney as well.