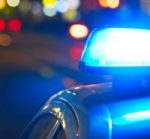 A vehicle reported stolen in Galesburg on Sunday morning was located in East Peoria.
According to reports, Galesburg police officers responded to a residence in the 400 block of Pine Street for a call of a stolen vehicle at 4:23 a.m.
At the residence, a woman claimed a black male named "Jason" peeled out with her vehicle and struck a truck.
Officers were able to make contact with "Jason" over the phone to which the alleged admitted to taking the vehicle, but said he did so to escape bodily harm from people associated with the woman.
"Jason" told officers he had fallen asleep at the woman's home, being woken up when men – he assumed were the woman's brothers – began threatening him and he attempted to leave.
He claimed a dark colored Chevrolet Tahoe or Suburban pursued him and attempted to cut him off – causing him to collide with the vehicle while trying to make his get away.
Additionally, the alleged told police officers that the vehicle was left in a Kroger's grocery store parking lot in East Peoria, which was confirmed by the East Peoria police department.
Police reports indicate that Galesburg police were given incorrect family names for the alleged "Jason", and that no action was being taken until creditable information was presented in the case.