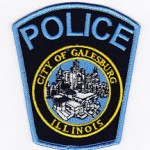 A Galesburg man has been charged with theft over $500 for allegedly stealing from his ex-girlfriend's family.
Galesburg police officers were called out to the 400 block of south Farnham street Saturday night where a woman claimed that 39-year-old Dustin M. Pople had stolen thousands of dollars in property from her family.
The woman indicated she was Pople's ex-girlfriend, and told police that Items taken included china glassware, glass plates, several pieces of jewelry and four airsoft guns – all valued at over $2500.
She also told police that she had confronted him after discovering the thefts – to which he allegedly promised to get the items back.
Later that night, officers were called back out to Farnham were Pople had allegedly returned some of what was stolen – he was later picked up by police.