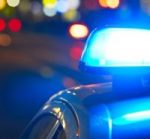 While issuing an emergency order of protection – Galesburg police were forced to arrest a woman who became violent and struck officers Monday afternoon.
According to police reports, officers were issuing the order of protection to 38-year-old Gypsy Harper at an address on north Farnham street, where she, her boyfriend, and her 16-year-old daughter lived.
Harper allegedly became combative after being told she'd have to leave the residence to which started swinging her arms and kicking – striking officers.
She was arrested and would be charged with Aggravated Battery to a Police Officer, two counts of Resisting a Arrest, and Obstruction of Justice.
Following – and unrelated to – her arrest, officers discovered her daughter was listed as a missing juvenile in Texas.
Harper had no parental rights – as the teen was a ward of the state – and she was reported missing by her foster parents.
Police reports indicate the Department of Child and Family Services would take the daughter into protective care.