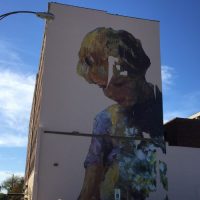 Galesburg Civic Arts Center Director Tuesday Cetin says the mural on the side of The Kensington is coming down.
She says they are "heartbroken" with the decision but the larger than life rendition of the Adam Emory Albright's "The Daisy Field" didn't have time to seal.
The work was put up with paper and adhesive but needed a week or two to fully seal.
Cetin says they just never got the time they needed.
After initial damage they hoped to make repairs but additional harsh conditions took the work beyond the point of being fixed.
The installation was meant to be semi-permanent but "unusually strong winds" of 40-50 mph and rain over the past month made sealing a challenge.
The work was a part of Julien De Casabianca's Outings Project, an international movement that takes images of permanent collection pieces and blows them up into public streets.
Albright's "The Daisy Field" is now a part of the Galesburg Civic Arts Center's permanent collection.
The mural had been De Casabianca's largest piece and Galesburg the smallest community his work had gone up in.