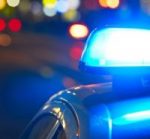 Two men are facing drug charges following a traffic stop that occurred on Maple Ave in Galesburg on Friday.
Around 4:00 P.M., officers pulled over a vehicle being driven by 23-year-old Anthony Cheeks on several bench warrants in Knox, Warren, and McDonough counties.
According to reports, a search of the vehicle was conducted, to which Galesburg police found cannabis-filled cigars and a bag of meth.
Allegedly Cheeks admitted the methamphetamine was his.
The passengers in the vehicle were also searched, and officers would allegedly find more cannabis on 18-year-old Sean Morss.
Officers did a search of a bag that Morss allegedly claimed was his – to which they found pills not prescribed to him.
According to the police reports, Morss would admit the pills belonged to his mother.
Cheeks faces a number of charges – including the possession of meth, and driving on a suspended license, and operating an uninsured motor vehicle.
Morss faces a possession of a controlled substance charge.