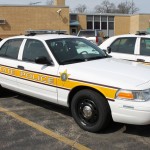 A fatal crash took place this afternoon (Monday) on Illinois Route 81 at I-74 in the small township of Lynn Center in Henry County.
At a top of a ramp a passenger van turning onto the interstate got in the path of a semi-truck traveling west.
A passenger van exited the roadway east bound to Route 81 before coming to rest in a ditch.
The semi struck the driver's side of the van, ejecting the van's driver causing fatal injuries according to State police trooper Jason Wilson.
The name of the deceased driver is being withheld at this time pending notification of the family.