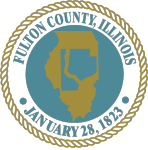 Fulton County Sheriff's Deputies responded to a call of a one vehicle accident north of Canton city limits around 1:40 Thursday afternoon where a 68-year-old man was pronounced dead.
According to a release from the Sheriff's Department, Robert Farrar of Canton had been traveling south on 11th Avenue.
Investigators believe his vehicle crossed the northbound lane and went gradually off the road – going through a ditch and striking a tree on the east side of the road before spinning around the tree and coming to rest in a ditch.
According to the Sheriff's Department, Farrar was not wearing a seat belt and had been partially ejected from the vehicle requiring him to be extricated from the car.
The Sheriff's Department continues to investigate the incident.