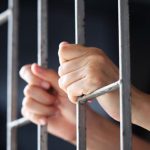 A Galesburg teenager has pleaded guilty to a shooting death, but to a new charge that essentially removes the part about the shooting.
Knox County Circuit Court records indicate 18-year-old Devontae Williams pleaded guilty yesterday as part of a partial deal to a charge of First-Degree Murder. The new charge removes a reference to a gun being used – instead making reference to a blunt object. That means Williams no longer faces a sentence of 25 years to life in prison – enhanced because it was a gun crime.
Williams reportedly has agreed to testify against a co-defendant – 21-year-old Miguel Romo. Williams has claimed he tried to pistol-whip 19-year-old Dakota Tinkham in March of last year when the gun went off.
Two other people facing robbery charges in connection with the incident still face future court appearance.
Prosecutors say they will recommend a sentence of no more than 45 years in prison when Williams is sentenced January 12th.