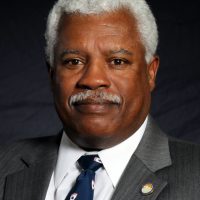 The Galesburg City Council will vote on a resolution this Monday to name the East Main Street Underpass after the late Rev. Jon Sibley Sr.
The underpass isn't expected to be done until late spring/early summer of 2018 as construction continues.
Sibley was a Galesburg native and a fixture in the community, volunteering with youth and faith groups in addition serving in the U.S. Air Force and 20 years as an Illinois State Trooper.
He was pastor of Full Gospel Church and also a member of Galesburg's Police and Fire Commission.
He graduated from Carl Sandburg College in 1978 and went on to be a long-serving trustee at the community college from 2007 until his passing in April at the age of 68.
Upon receiving the Thomas B. Herring Award for Community Service in 2013 from the Galesburg Chamber of Commerce Sibley remarked, "I believe you've got to help somebody, to help somebody else, to help somebody else."