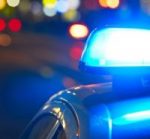 One man was arrested on a drug charge and for obstructing justice following a routine traffic stop in Galesburg.
According to police reports, around 12:45 A.M. Wednesday, police officers pulled over blue Jeep for no registration light on N. West Street.
The driver of the vehicle – later identified as 35-year-old Mathew D. Ryner of Galesburg – allegedly gave officers a false name and several false birth dates as well as failed to produce a valid insurance card.
A police K-9 unit did a free air sniff test and alerted to drugs in the area.
Ryner allegedly freely admitted that he had cocaine in his possession- to which officers found a sniffer with white powder as well as nearly $300 in cash.
A search of the vehicle also turned up a scale – again to which Ryner allegedly admitted was used to weigh cocaine – and two hitter pipes with burnt cannabis residue.
He was arrested and charged with possession of a controlled substance, driving on a suspended license, operating an uninsured motor vehicle, and a class four felony of obstruction of justice.