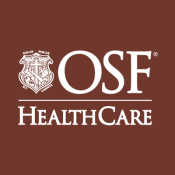 One area health care entity is getting out of the Blue Cross-Blue Shield PPO Network, while another is entering it.
Peoria-based OSF Healthcare says on its website that it will no longer be a part of Blue Cross-Blue Shield as of January first, and that goes for almost all of its hospitals, including Saint Mary's in Galesburg and Holy Family in Monmouth. It does not include OSF physicians and other divisions – only the hospitals.
OSF says that Blue Cross-Blue Shield had initially terminated agreements with three hospitals including Saint Mary's from their PPO network, and that essentially left OSF to terminate the rest.
Meanwhile, Unity Point Healthcare's Methodist Medical Center in Peoria, says it will join Blue Cross-Blue Shield in January.
OSF Healthcare officials declined WGIL's request for an interview on the matter, but you can see the hospital's statement by CLICKING HERE.
FOLLOWING IS A STATEMENT FROM BLUE CROSS/BLUE SHIELD OF ILLINOIS, WHICH ALSO DECLINED WGIL'S REQUEST FOR AN INTERVIEW:
"Blue Cross and Blue Shield of Illinois is committed to our members, our group customers, as well as the communities we serve. Our current PPO and BlueChoice® contracts with St. Francis Medical Center in Peoria, St. Anthony Medical Center in Rockford and St. Mary Medical Center in Galesburg, each a part of the Order of St. Francis HealthCare System (OSF), no longer serve BCBSIL's aim to continue to broaden our members' access to network providers and further enhance our network and product offerings. Our mission is to continue to provide access to quality, cost-effective healthcare in Illinois. That includes creating and designing networks that balance access and affordability of care. We are open to continuing contract discussions with the goal of reaching an agreement that benefits our members and customers."