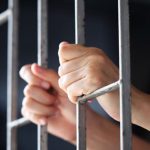 Two men arrested for a robbery in Davenport will have more charges brought against them for a similar crime committed in Macomb – one of many such crimes in a string that has hit the region.
U.S. Cellular stores had been hit earlier this year in Galesburg, Monmouth, Pekin, Peoria and many others throughout the Midwest.
24-year-old Michael Davis of Chicago and 31-year-old William Sanders of Bellwood were arrested on July 31st in Davenport for an alleged burglary that occurred at a U.S. Cellular store where over $60,000 of phones were taken.
The Macomb Police Department has confirmed that both Sanders and Davis are being charged with theft and burglary at the U.S. Cellular store on East Jackson Street in Macomb from July 7th – one of many similar thefts in the region that includes Galesburg, Peoria, Pekin, Moline, Monmouth, and Canton.
Both men are currently being held in a Scott County jail.
Macomb Police have said that they are working with the Federal Bureau of Investigations on the case.
It could not been confirmed if the alleged are connected to the April 29th break-in at the Knox Square Drive U.S. Cellular store, and as of now no arrests have been made in that case.