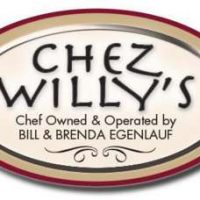 Folks curious as to what will become of the former Chez Willy's restaurant on Seminary Street won't have much longer to wait. 
Ryan Cardwell, owner and executive chef of Iron Spike Brewing Company and Bartley Smith, the former executive chef of En Season in Galesburg have partnered up for a new eatery in town.
Expected to open early next year, the two plan to open a farm-to-table seasonal deli and butcher shop offering breakfast and lunch.
They want to utilize local farmer's market produce and ingredients for their entrees.
Smith tells the Register Mail the vision is to access their products as locally as possible – because one can really taste the difference.
The establishment at 41 South Seminary, which hasn't been named yet, will also feature fine dining on the weekends – also serving wine.
Cardwell says they expect the restaurant to fit well along with the other establishments on historic Seminary Street.
Both Cardwell and Smith respect each other's approach to fresh, locally-grown produce and skills.
Although details for the menu are still be finalized – the menu is expected to change, being a seasonal approach – using local products.
Smith and Cardwell also expect the new eatery to fill the fine-dining void with both Chez Willy's and Fig's no longer available.