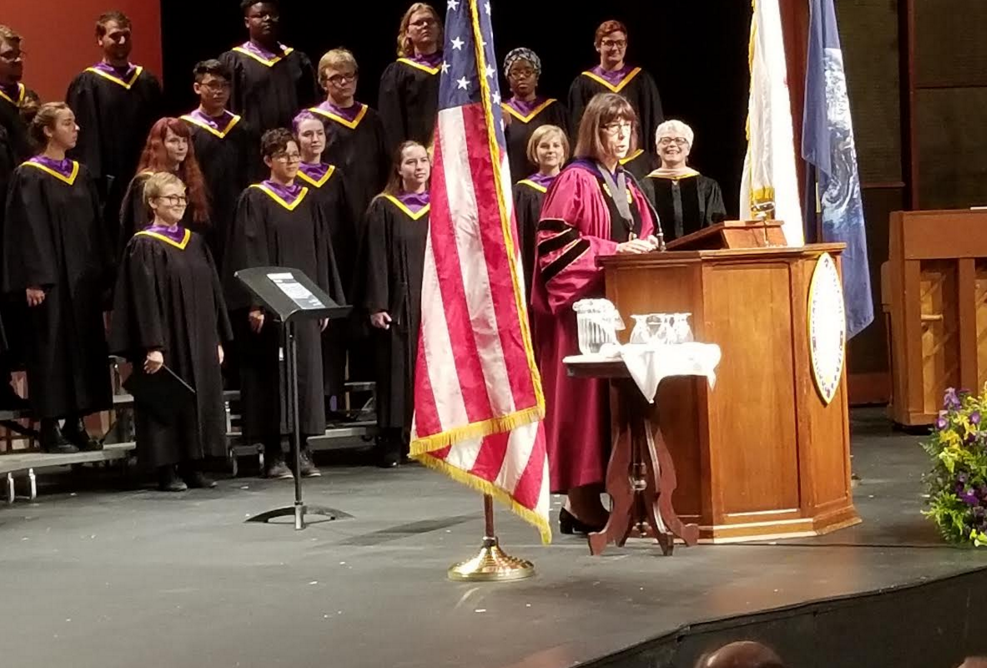 Mondays Knox College held it's opening convocation for new students at the Ford Center for the Fine Arts.  
New and transferred students filled up the Harbach Theatre for a welcome by President Teresa Amott, the introduction of new faculty, and recognition of college awards.
Amott's message to the students included the need to celebrate education: "Let us celebrate a new academic year. With new courses of study, and powerful experiences ahead. We celebrate the class of 2021 and transferring colleagues. We look forward to a year of teaching and learning with our community on our prairie campus. And we join together as a community, because we learn more together than we can alone."
Interim Vice President for Academic Affairs and Dean of the College, Michael Schneider, awarded two faculty members with awards.
The Philip Green Wright Award for Distinguished Teaching is given to both a junior and senior faculty member for their work.
The award is named for a professor at what was Lombard College in Galesburg.
Helen Hoyt, Assistant Chemistry Professor, and Heather Hoffman, Professor of Psychology, were this year's recipients.
Amott then presented the Janet C. Hunter prize – awarded to a staff member to recognize outstanding accomplishments and service.
Theatre costume/designer supervisor Margo Shively was this year's recipient as well as Secretary Barbara Schultz.