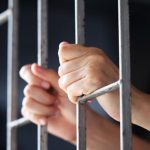 Bail has been set for three men – booked on felony gun and drug charges – after making video court appearances Monday afternoon in Galesburg.
Associate Circuit Judge Anthony Vaupel set bail for Miguel Alvarez of Fort Madison at $50,000; Rogelio Vasquez-Salgado of Galesburg at $35,000; and Orlando Hernandez also of Galesburg at $150,000.
The three men were arrested following a brawl at Showgirls late Saturday night, where they allegedly made disrespectful comments toward two dancers – which led to a confrontation with three other men.
A fight broke out between them before Hernandez allegedly pulled on a firearm tucked in his waistband.
The three left the establishment before being pulled over and after the vehicle was searched 10.1 grams of cocaine were discovered as well as the gun – with the serial number scratched off – found hidden under the trunk.
Hernandez – an Illinois Department of Corrections parole hold, was charged with a Class X felony of Armed Violence, for having both the cocaine and the gun in his possession at the same time, as well as two counts of aggravated assault, and two gun charges. The Class X felony carries a 15-30 year sentence if convicted.
All three were charged with felony mob action – for acting together in the fight with the other men – and for possession and possession with intent to deliver cocaine between 1 and 15 grams.