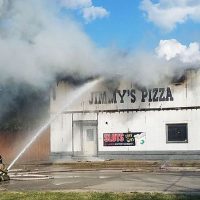 Demolition of what was once Jimmy's Pizza in Wataga began earlier this week.  
The local and area favorite hotspot suffered extensive damage from a June 13th fire. WGIL spoke with owner Deb McCormick on Friday – and demolition was all but completed.
"The amount of support we've received has been tremendous," McCormick said.
The owners will be meeting with an architect next week to go over rebuilding plans – which according to McCormick, will be similar to what fans of the popular restaurant came to love. She said she realizes that with a building was "well over 100 years old, and it had some problems…but it's an opportunity" to fix those issues and still give locals what they want.
"The process of rebuilding is long," McCormick admitted. As soon as new plans are finalized, construction is expected to begin – hoping for completion by the spring.
Some of the wood, bricks and metal bars from the old bank have been salvaged from the debris, and will be incorporated into the new establishment.
In the meantime, Jimmy's Pizza and the Oneida/Wataga Fire Departments are hosting a taco night fundraiser in front of Jimmy's on September 2nd.
"Jimmy's used to do Taco Tuesdays every week," McCormick said, "It's a way for us to say thank you to the fire departments – as well as the eight other departments that came that day."