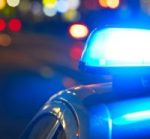 Three individuals were arrested for allegedly cooking methamphetamine in the basement apartment of a house on Berrien street.
The alleged are 26 year old Cierra R. Brahmstedt, 48 year old Shayne S. Fox, and 52 year old Cylde E. Charles Jr. – all of Galesburg.
All three were charged with a Class X felony of aggravated participation in meth production between 100 and 400 grams within 1,000 feet of a church – which can carry a prison sentence of 12 to 50 years.
The three were also charged with Class X felony participation of meth production between 100 and 400 grams, as was a felony possession of meth manufacturing materials.
GPD had the house under surveillance for several months after receiving a couple of anonymous tips through the Galeburg Area Crime Stoppers.