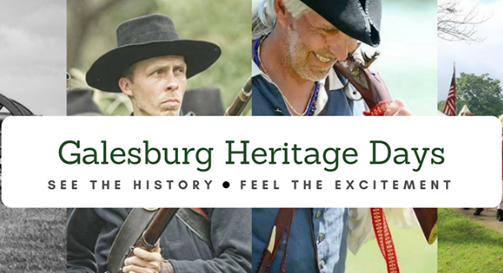 The 24th Annual Heritage Days returns to Lake Storey this weekend. 

Over the course of Saturday and Sunday, two historic Civil War battles will be re-enacted.
Re-enactors will stage the first battle of General Sherman's March to the Sea on Saturday at 3:00pm.
Sunday the Battle of Honey Hill will be re-enacted at 2:30pm.
Mark Ebner tells WGIL attendance for the Galesburg re-enactment grows every year. "This has really taken off – as far as participation of tourists who come to town. I think we estimate now that we have over 800 living historians – people from 17 different states come here to Galesburg. It's grown every single year," Ebner said. Heritage Days in Galesburg is one of the biggest Civil War re-enactments in the Midwest. The event if family-friendly with free parking, free admission, and a free wagon ride and shuttle to take visitors between encampments. The event features two camps: The Civil War Camp – open 9am to 10pm on Saturday, and 8:30am to 4pm Sunday. The Rendezvous Camp will be open from 4pm to 7pm Friday, 7am to 8pm Saturday and 7 am to 4pm Sunday. Both camps will host a slew of activities for the whole family – from candy cannon blasts, knife & tomahawk throwing, Native American areas, musical entertainment, and demonstrations.