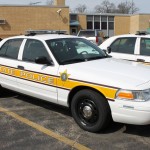 The Illinois State Police say at least one person is dead following a two vehicle crash that happened Friday morning in Knox County.
The crash occurred at 10:25 Friday morning south of Maquon with Knox County Sheriff's Department, Illinois State Police District 7 and Maquon Fire Department on the scene.
A south-bound white 1997 Chevrolet truck rear ended a greenish-gray 1996 Ford pickup sending the Ford over a guardrail and down an embankment.
The driver was ejected from the Ford. It is not immediately clear as to the condition of the driver of the Chevrolet.
The investigation is ongoing and the names of those involved have been withheld.