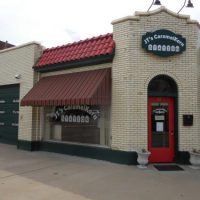 One of the newest stops that's popped up in downtown Galesburg is JT's Carmel Korn Station. After owning and running the stand out of the Sandburg Mall for several years, owner Jackie Turner closed up shop to focus on other endeavors.
As time went on, Turner tells WGIL, the idea of running a store in the downtown area became a goal of her's.
"We probably looked around for almost a year at different locations on Seminary Street," Turner says. "At the end of last year we sort of had the opportunity to get the gas station and jumped on that. Absolutely love it, you have that parking, it's on Seminary Street and you have that corner. It's just a really great location," Turner says.
JT's Carmel Corn Station has also expanded.
In addition to weekly featured popcorn flavors – such as favorites like: kettle corn and buffalo popcorn, Turner will now offer all-beef hot dogs, pretzels, nachos, and homemade candy.
Turner owns all the different popcorn flavor recipes that many will remember from the Mall's stand – all of which were created from scratch.
JT's Carmel Corn Station on the corner of Seminary and Simmons Streets is open Monday through Friday 10am – 6pm and Saturdays from 10am – 5pm.