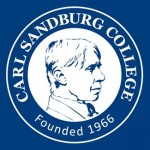 Carl Sandburg College has a new VP of Academic Services in Dr. Ellen Crowe.
Crowe comes to Sandburg from Morton College in Cicero in a career that spans 17 years in teaching and 18 years in higher ed administration.
Crowe says she will take over for Julie Gibb who has spent a three-decade career at the college, most recently in the job that Crowe will step into.
In this role she'll work in conjunction with VP of Student Services Steve Norton in overseeing things like curriculum, faculty, classroom operations and scheduling.
She says she was taken with the way Sandburg works with the community, but also the community around the school itself.
She also noted how much Sandburg is part of Galesburg and the "community it serves"
She says doesn't see big areas of deficit in Galesburg or at Sandburg and she hopes to build on the school's already "strong foundation"
Still, Crowe says she will always be looking for new ways to service students, build program and serve the community.