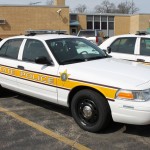 Illinois State Police have released the name of a man who died on I-74 near Route 34 Saturday.
41-year old Timothy D. Holman of Moline was driving a 2007 Black Dodge Ram Pickup that left the roadway, rolled over and struck a tree at 12:29 in the afternoon.
ISP says the driver died as a result of the injuries he sustained.
Police say the crash remains under investigation.