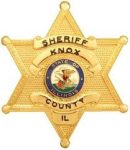 Two individuals were arrested on Thursday night following a traffic stop around mile marker 48 on Interstate 74 by Knox County Sheriff's Deputies.
An eastbound black 2008 Toyota Raven SUV with Pennsylvania registration was clocked traveling 66 miles an hour in a construction zone marked at 55.
The driver was identified as 24-year-old Dayna Carranza of Provo, Utah, and a sleeping passenger in the back seat was identified as 20-year-old Jaime Sanchez of Modesto, California. 
According to a news release from the Sheriff's office, several indicators of narcotics were present and Knox County K-9 were called to perform a free air sniff.
The vehicle was brought to the office for a search were 31 vacuum-sealed bags were found in the rear of the vehicle, weighing at 31 pounds, or 14,445 grams of pot.
Both subjects have been incarcerated in the Knox County Jail and are awaiting court appearances.